I'm self-publishing a new book of traditional tunes to partner my 2017 book Jiggery Pokerwork.  It contains 94 tunes suitable for all melody instruments with suggested chords, and it includes all the trad. tunes I've ever recorded with Spiers & Boden, Eliza Carthy and Bellowhead along with many others.  Where the original tune is in a more unusual key I've included a transposition to a more folk-friendly (ahem melodeon-friendly!) key.
It is currently on its way to the printers and I am taking pre-orders from today to help pay for the printing costs.  You can pre-order your copy from my online shop here.  There are plans to create a fully navigable PDF digital version for sale soon, but currently all pre-orders are for physical copies only.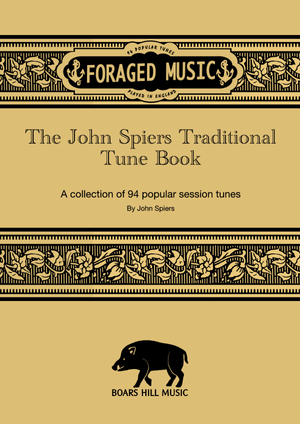 List of tunes in the book.
George Green's College Hornpipe
Albert Hewitt's Hornpipe
The Monkey Hornpipe
The Cokey Hornpipe
Scan Tester's No.1 Stepdance
Scan Tester's Country Stepdance
Ladies Step Dance
Miner's Hornpipe
William Irwin's Modal Hornpipe (aka Barbara Allen)
Millicent's Hornpipe
Kafoozalum
Stoney Steps Hornpipe
Sweep's Hornpipe
Wonder Hornpipe
Sportsman's Hornpipe
Lemmie Brazil's No. 2
The Wantage Hornpipe
Old Hog or None
Paddy Carey's Jig
Oswestry Wake
Swaggering Boney
The Morgan Rattler
Queen's Delight
Dearest Dickie
Grimstock
Banks of the Dee
Mrs. Casey
The Mallard
Moll of the Wood
Hopkinson's Favourite
Seven Stars
Up The Sides and Down The Middle
Laudanaum Bunches
The Beggar Boy of the North
Old Woman Tossed Up
The Black Joke
Three Jolly Sheepskins
Godesses
Jack Robinson
Argiers
Old Tom of Oxford
The Rochdale Coconut Dance
No Man's Jig
Hanoverian Dance
Not for Joe (Three Jolly Black Sheepskins)
Princess Royal
Cuckoo's Nest
The Quaker
Brighton Camp
Trunkles
Beatrice Hill's Three Handed Reel
Untitled tune from Beatrice Hill
Three Around Three
Atsley's Ride
Funney Eye
Parson's Farewell
Foul Weather Call
The First of May
Double Lead Through
Highland Mary
Dear Tobacco
The Sloe
The March Past
Jock Wilson O'Fenton
Bonny Kate
Enrico
Dark Girl Dressed in Blue
Radstock
Speed The Plough
As The Tide Was Flowing
The New John Peel
The Shropshire Rounds
Rusty Gully
Cobbler's Hornpipe
The Old Lancashire Hornpipe
If You Will Not Have Me You May Let Me Go
Jack Lintel's Jig
Easter Thursday
Three Case Knives
Chalk's Hornpipe
Lads of Alnwick
The Cheshire Waltz
Ring o'Bells
The Gentlewoman (Y Fenyw Fwyn)
Whittlesea Straw Bear Tune
Oranges in Bloom (The Sherborne Waltz)
The Grinders
The Yellow Haired Laddie
The Butterfly
Michael Turner's Waltz
The Westmorland Waltz